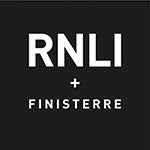 With courage, nothing is impossible
With a shared love and respect for the sea, our new collaboration with clothing brand Finisterre is a natural fit. We've drawn inspiration from our seafaring heritage and the hardiness of the human spirit to create a handy capsule collection for autumn – and we know you'll love it.
So, what'll it be? A knitted jumper made from 100% British wool? A super cosy beanie or pom-pom hat? Or perhaps some hardy all-weather socks, or versatile bandanas? Take your pick.