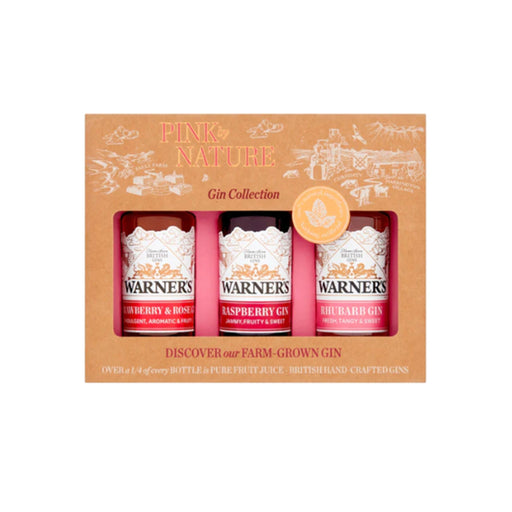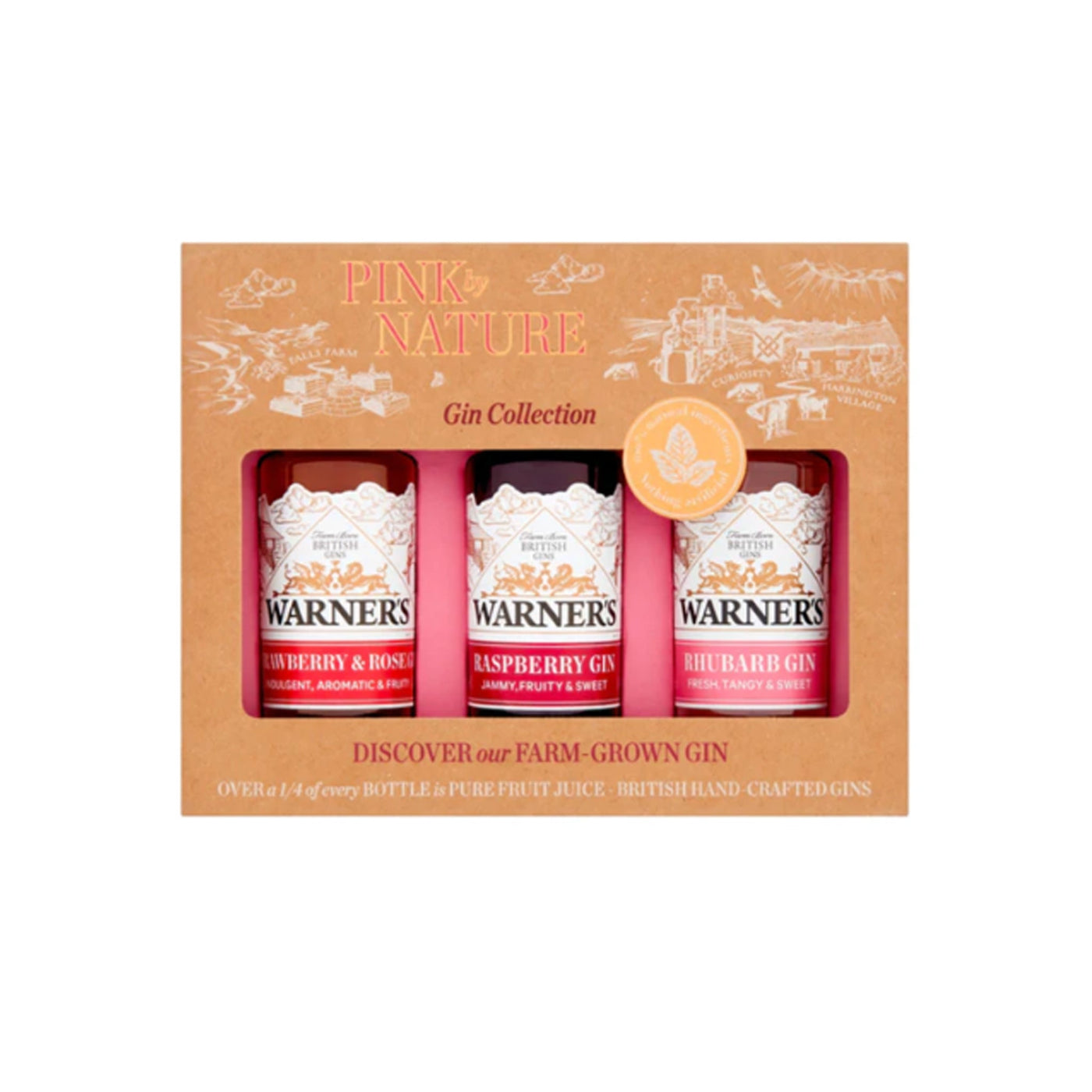 Description
Product code: RS2252506
Currently, we are only able to ship this item to the UK, Channel Islands and IOM.



Please note we cannot sell this product to anyone aged under 18

The RNLI is a responsible retailer and as such we will not sell age restricted goods to anyone under the age of 18. We are unfortunately unable to accept orders containing age-restricted products where the payment or delivery address is outside the United Kingdom.
This tasty trio of perfectly pink gins are bursting with all-natural, farm-grown flavours.
Packaged in a beautifully designed gift box, it's a great summery gift. 
This set includes:

1 x 5cl Warner's Rhubarb Gin
1 x 5cl Warner's Raspberry Gin
1 x 5cl Strawberry & Rose Gin.

Warner's Raspberry Gin
Jammy, fruity & sweet. Yes, this one's jammed full of raspberries, but it's got blackberries in it too (sorry, the label wasn't big enough for that).

In fact, one-third of every bottle is pure, lip-smacking berry juice. Insanely refreshing.
Out of this world with Mediterranean tonic, a sprig of mint and a toss of berries.

40% ABV. 5cl

Warner's Rhubarb Gin
Fresh, tangy & sweet. Every bottle is one-third rhubarb juice. So it's naturally pink.
It tastes like rhubarb and looks like rhubarb because that's what it ruddy well is: rhubarb.

Cracking with Mediterranean tonic. Absolute dynamite with ginger ale.
No need, but add a wedge of orange if you've got one going spare.

40% ABV. 5cl

Strawberry & Rose Gin
Indulgent, aromatic & fruity
Jam-packed with proper British strawberries & real, fragrant rose petals. It's a proper fruity gin, a taste of the bloomin' British countryside, distilled.

A splash of Mediterranean Tonic & an orange wedge or sprig of mint are all you need for fruity G&T perfection.

40% ABV. 5cl
Delivery Information
Available for home delivery
Standard UK delivery within 5 working days.


£3.95

Express delivery (UK mainland only)
Delivered within 1-2 working days


£7.99

Free UK returns



International delivery
Delivery to The Republic of Ireland within 15 working days.


£6.75

Telephone ordering
Please call 0300 300 9916


or +44 1904 202310 (from outside the UK)

Our helplines are open Monday to Friday, from 8am to 8pm; and Saturday from 8am to 6pm