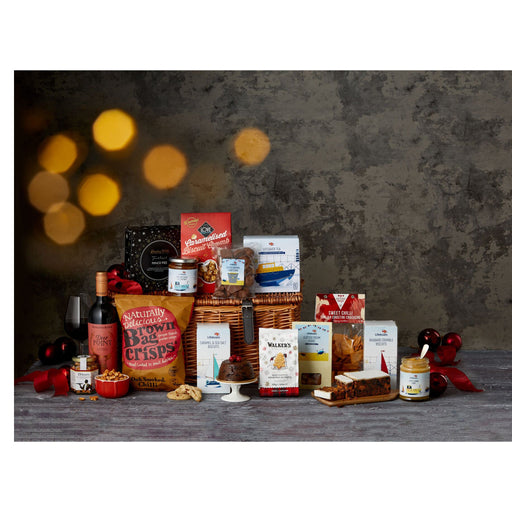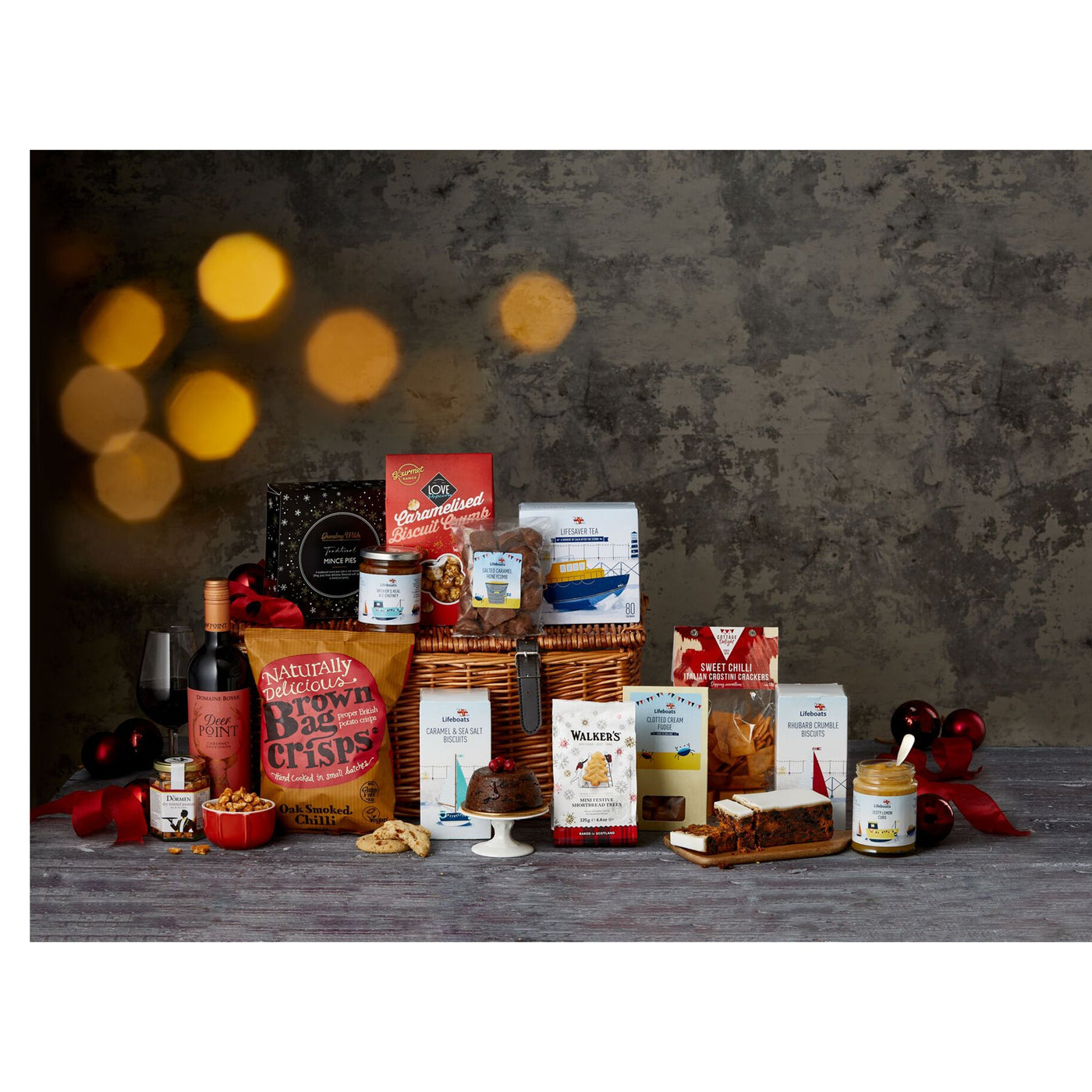 Description
Product code: RS2354203
Currently, we are only able to ship this item to the UK, Channel Islands and IOM.
Please note we cannot sell this product to anyone aged under 18

The RNLI is a responsible retailer and as such we will not sell age restricted goods to anyone under the age of 18. We are unfortunately unable to accept orders containing age-restricted products where the payment or delivery address is outside the United Kingdom.
Imagine the glow of happiness you'll bring to a friend or family member when they lift open the lid of this sumptuous hamper.
You'll make someone's Christmas with this treasure box of goodies. They will tuck in straight away and will still be dining out on this generous hamper weeks later. It's full to the brim with festive treats to surprise and delight the tastebuds. What would you go for first? RNLI Salted Caramel Honeycomb or the Sweet Chilli Crostini Crackers? All complimented by a glass of Cabernet Sauvignon perhaps?
You've found the perfect gift – it'll mean so much to the receiver and also to our brave RNLI lifesavers who are on call this Christmas.
In your hamper basket:
Domaine Boyar Deer Point Cabernet Sauvignon ABV 12.5% (75cl)

Classic Christmas Pudding with Sultanas, Cider and Rum (200g),
Dormen Dry Roasted Peanuts (95g)
Original Cake Co. Iced Slab
Brown Bag Oak Smoked Chilli Crisps (150g)
Love Popcorn Caramelised Biscuit Crumb (100g)
Grandma Wild's 4 Traditional Mince Pies,
Cottage Delight Sweet Chilli Crostini Crackers (170g)
Walker's Mini Festive Shortbread Trees (125g)
RNLI Rhubarb Crumble Biscuits (200g),
RNLI Salted Caramel Honeycomb (180g)
RNLI Clotted Cream Fudge (150g)
RNLI Brewer's Real Ale Chutney (280g)
RNLI Lemon Curd (300g),
RNLI Lifesaver Tea Bags (80 bags)
RNLI Caramel Sea Salt Biscuits (200g)
Delivery Information
Available for home delivery
Standard UK delivery within 5 working days.


£3.95

Express delivery (UK mainland only)
Delivered within 1-2 working days


£7.99

Free UK returns



International delivery
Delivery to The Republic of Ireland within 15 working days.


£6.75

Telephone ordering
Please call 0300 300 9916


or +44 1904 202310 (from outside the UK)

Our helplines are open Monday to Friday, from 8am to 8pm; and Saturday from 8am to 6pm